CPI's Influence on Market Dynamics: A Closer Look
CPI's Influence on Market Dynamics: Tom Essaye Quoted by BNN Bloomberg
---
Nasdaq 100 Drops 1 per cent as Apple slides after event
CPI is really key because if it halts its downward trend, markets will have to price in a more hawkish Fed. And that would be a headwind on stocks, said Tom Essaye, a former Merrill Lynch trader who founded The Sevens Report newsletter.
Lastly, "Put in a more familiar way, CPI impacts two of the three pillars of the rally: disinflation and expectation the Fed is done with rate hikes," Essaye noted.
Also, click here to view the full BNN Bloomberg article published on September 12th, 2023. However, to see Tom's full discussion on CPI's influence on markets sign up here.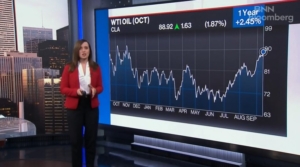 If you want research that comes with no long term commitment, yet provides independent, value added, plain English analysis of complex macro topics, then begin your Sevens Report subscription today by clicking here.
To strengthen your market knowledge take a free trial of The Sevens Report.
---
Join hundreds of advisors from huge brokerage firms like Morgan Stanley, Merrill Lynch, Wells Fargo Advisors, Raymond James, and more! To start your quarterly subscription and see how The Sevens Report can help you grow your business, click here.
https://sevensreport.com/wp-content/uploads/2020/10/BNN_Bloomberg-Logo_300x250.jpg
250
300
Customer Service
https://sevensreport.com/wp-content/uploads/2019/02/sevens-report-research-logo.png
Customer Service
2023-09-14 10:14:39
2023-09-14 10:14:39
CPI's Influence on Market Dynamics: A Closer Look