Why Sevens Report?
Save Time
In today's wealth management industry, time is money. The Sevens Report helps subscribers save time by providing independent research that cuts through the noise and allows advisors to focus more time on their clients and growing their business.
Actionable Ideas
We take complex macro-economic concepts (Chinese economic developments, implication of rising interest rates, GDP reports, FOMC Statements, etc.) and tell you: 1) What you need to know, 2) Why it's important, and 3) How it will move markets.
OUTPERFORM
We watch macro indicators to identify tactical opportunities across asset classes that can help our subscribers outperform. We focus on medium term opportunities for tactical investment accounts and look for the big trend changes that can offer months of outperformance.
GROW AUM
The most successful advisors use tools like The Sevens Report to stay ahead of the markets and to make sure their clients are positioned to both outperform while also being aware well in advance of any "financial storm" that may blow up.
subscribe now
Get the best value in research with clients from:
What is the Sevens Report?
About Thomas Essaye, Chief Editor
Tom Essaye started his career on Wall Street on the trading floor of the NYSE with Merrill Lynch's Institutional Equity trading division. He later moved to the buy side as an execution trader with a global macro hedge fund where he executed trades and managed portfolio risk across a variety of assets including domestic and foreign equities and commodity and currency futures. Later, Tom became a portfolio manager for the fund and managed the energy equity and oil and gas futures positions of the fund. Prior to launching the Sevens Report in 2012, Tom was head of trading strategies at a leading financial research publisher.
Tom is a frequent guest on national television, and appears regularly on CNBC, Bloomberg TV, BNN and Marketwatch.com. He's also been a guest commentator on syndicated national radio shows, and is frequently quoted in various national print publications.
Tom holds an MBA from the Hough Graduate School of Business at the University of Florida and was a cum laude graduate of Vanderbilt University with a major in business management, and minors in finance and philosophy. Tom resides in South Florida with his wife, and two children.
Market Updates
An excerpt from the Sevens Report. Sign up for a two-week free trial of the full report at www.7sReport.com. Earlier this week I began profiling non-political risks to explore when making decisions for your clients and talking with prospects. Here's number three: Non-Political Risk #3: Surprise Trade or Military Dispute Surprisingly, and potentially dangerously, the[…]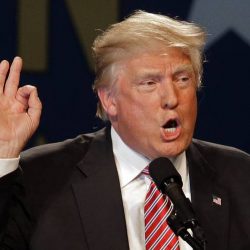 Last week started off a little down on Monday, then flat on Tuesday and Wednesday. Thursday looked like it was going to be another boring day until President Trump made comments during an airline CEO meeting that he would present a "phenomenal" tax plan in a few weeks. Those comments were followed by a more[…]
Previous
Next