Why Sevens Report?
Save Time
In today's wealth management industry, time is money. The Sevens Report helps subscribers save time by providing independent research that cuts through the noise and allows advisors to focus more time on their clients and growing their business.
Actionable Ideas
We take complex macro-economic concepts (Chinese economic developments, implication of rising interest rates, GDP reports, FOMC Statements, etc.) and tell you: 1) What you need to know, 2) Why it's important, and 3) How it will move markets.
OUTPERFORM
We watch macro indicators to identify tactical opportunities across asset classes that can help our subscribers outperform. We focus on medium term opportunities for tactical investment accounts and look for the big trend changes that can offer months of outperformance.
GROW AUM
The most successful advisors use tools like The Sevens Report to stay ahead of the markets and to make sure their clients are positioned to both outperform while also being aware well in advance of any "financial storm" that may blow up.
subscribe now
Get the best value in research with clients from:
WHAT IS THE SEVENS REPORT?
The Sevens Report is everything you need to know about the markets by 7AM each morning, in 7 minutes or less. It was created by former New York Stock Exchange trader Tom Essaye to help financial professionals and self-directed investors eliminate the information overload they face daily, and to provide comprehensive, essential, and succinct macro-economic analysis and daily coverage of all markets:
STOCKS | BONDS | COMMODITIES | CURRENCIES | ECONOMIC DATA
PRE 7:00AM LOOK:
We cut through the noise every morning to give you the critical overnight information across asset classes, so you can save time and start your day right.
ACTIONABLE STRATEGIES:
Idea generation is a core attribute of the Sevens Report, and we name specific ETFs we think can outperform based on our analysis.
KEY TECHNICAL LEVELS:
We follow both the fundamentals and technicals and make sure our subscribers know key levels and trends for all new assets (not just stocks).
THE BOTTOM LINE:
Analysis is useful only when its actionable — that's why we tell you WHAT happened, WHY it's important, and HOW you can use it to outperform for you or your clients.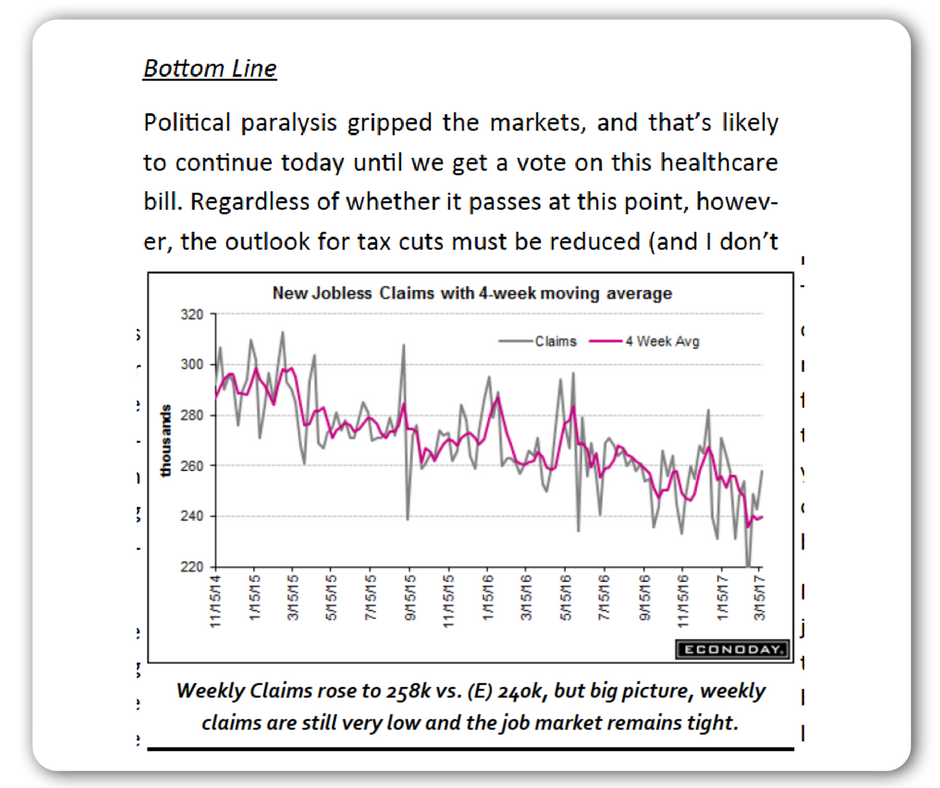 About Thomas Essaye, Chief Editor
Tom Essaye started his career on Wall Street on the trading floor of the NYSE with Merrill Lynch's Institutional Equity trading division. He later moved to the buy side as an execution trader with a global macro hedge fund where he executed trades and managed portfolio risk across a variety of assets including domestic and foreign equities and commodity and currency futures. Later, Tom became a portfolio manager for the fund and managed the energy equity and oil and gas futures positions of the fund. Prior to launching the Sevens Report in 2012, Tom was head of trading strategies at a leading financial research publisher.
Tom is a frequent guest on national television, and appears regularly on CNBC, Bloomberg TV, BNN and Marketwatch.com. He's also been a guest commentator on syndicated national radio shows, and is frequently quoted in various national print publications.
Tom holds an MBA from the Hough Graduate School of Business at the University of Florida and was a cum laude graduate of Vanderbilt University with a major in business management, and minors in finance and philosophy. Tom resides in South Florida with his wife, and two children.