The Sevens Report is everything you need to know about the markets in your inbox by 7am, in 7 minutes or less. Start your free two-week trial today and see what a difference the Sevens Report can make.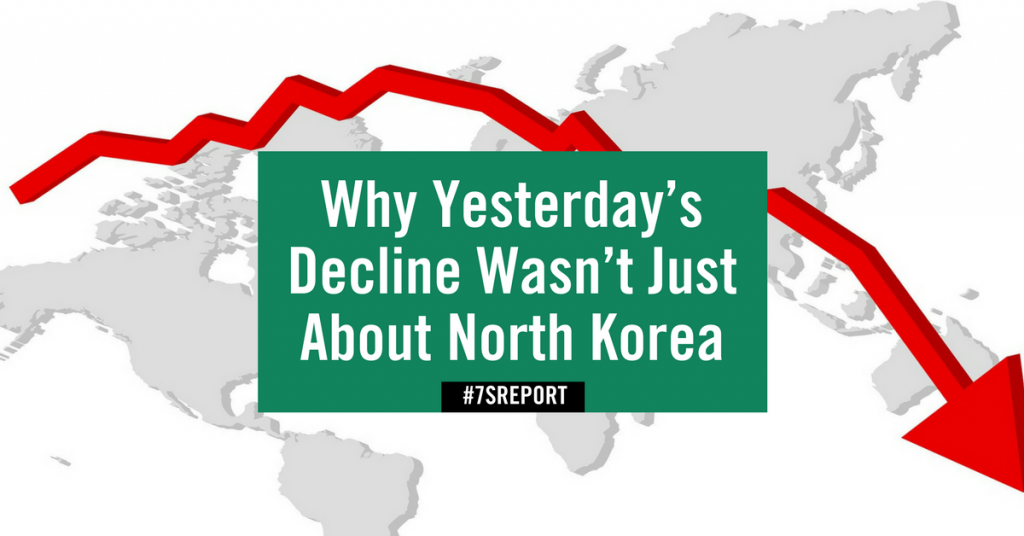 Thursday was another risk-off day in the currency and bond markets thanks to North Korea, but there were some underwhelming economic reports that shouldn't be missed, either. The Dollar Index fell 0.09% and never strayed too far from unchanged, in part due to the looming CPI report out this morning.
Starting with the obvious, North Korean angst again kept a lid on most currencies and pushed the yen higher, in classic risk-off trade (although importantly, the moves were mild and currencies and bonds did not confirm the angst in stocks).
However, beyond North Korea there was important economic data that did also impact currencies, and again I maintain that unless we get a big deterioration in the North Korea situation the data remains more important for the remainder than the geopolitical landscape.
First, US PPI was soft, declining for the first time in months and again reinforcing the idea of slowing inflation. Now, PPI isn't as important to the Fed or markets as CPI, but the bottom line is that if we are in (or approaching) an economic reflation, we shouldn't see these types of underwhelming inflation reports.
That soft PPI weighed slightly on the dollar and bond yields, although again it was largely overshadowed from a market standpoint by North Korea and today's CPI.
Looking internationally, the euro was flat all day vs. the dollar amidst little news, while the pound dipped 0.26%. The reason for the pound weakness wasn't just risk off in the markets. It also was due to an underwhelming Industrial Production report. While the headline number beat estimates (0.5% vs. (E) 0.2%), the manufacturing sub-component was flat vs. (E) 0.2%. That was why the pound dipped back below 1.30 vs. the dollar.
The big gainer vs. the dollar yesterday was, again, the yen, which rallied 0.55% on a standard risk-off move. Economic data in Japan yesterday was, at best, mixed, but the yen isn't trading off data right now… it's trading off sentiment. And, the North Korea news is causing a flight to safety, and that means higher yen, higher Treasuries and, for now, higher gold.
Turning to bonds, Treasuries rallied as the 10 year rose 0.11% and the 10-year yield fell below support at 2.22%, although that drop happened into the close.
Bottom line, this flare up in North Korea has put the 10-year yield at a critical technical crossroads. If CPI is light this morning, the 10-year yield will likely drop below 2.20%. At that point, a test of the 2017 lows certainly isn't out of the question. And, we'd find that disconcerting for multiple reasons, chief of which because it would imply too low inflation and largely destroy the chances for a reflationary rally in stocks in 2017.
We maintain that an economic reflation (higher growth, higher inflation, higher rates) is the only path to a sustainable medium- and long-term rally. While it may cause more of a decline short term, the medium- and longer-term investor in us is hoping for a strong CPI report later today. Unfortunately, I have a sneaking suspicion I will be disappointed. I hope I'm wrong.
Time is money. Spend more time making money and less time researching markets every day. Subscribe to the 7sReport.com.
https://sevensreport.com/wp-content/uploads/2017/08/Sevens-Report-Designs-1.png
628
1200
Tom Essaye
https://sevensreport.com/wp-content/uploads/2019/02/sevens-report-research-logo.png
Tom Essaye
2017-08-11 08:16:26
2017-08-11 08:16:26
Why Yesterday's Decline Wasn't Just About North Korea, August 11, 2017