Are Banks About to Break Out?
Join hundreds of advisors from huge brokerage firms like Morgan Stanley, Merrill Lynch, Wells Fargo Advisors, Raymond James and more… see if The Sevens Report is right for you with a free two-week trial.
Banks were again the highlight, as BKX rose 0.83%, and that pulled the Financials SPDR (XLF) up 0.72%. The bank stock strength came despite the decline in yields, which we think is notable. In fact, over the past several trading days, bank stock performance has decoupled from the daily gyrations of Treasury yields, and we think that potentially signals two important events.
Regardless, this price action in banks is potentially important, because this market must be led higher by either tech or banks/financials. If the former is faltering (and I'm not saying it is), then the latter must assume a leadership role in order for this really to continue.First, it implies bank investors are starting to focus on the value in the sector and on the capital return plans from banks, which could boost total return. Second, it potentially implies that investors aren't fearing a renewed plunge in Treasury yields (if right, that could be a positive for the markets).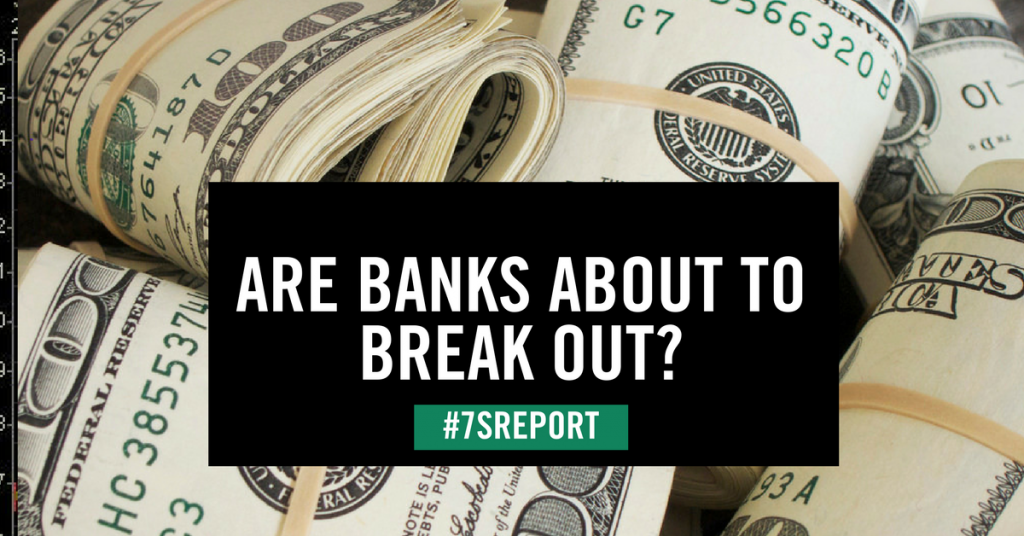 Bottom Line
This remains a market broadly in search of a catalyst, but absent any news, the path of least resistance remains higher, buoyed by an incrementally dovish Fed, solid earnings growth, and ok (if unimpressive) economic data.
Nonetheless, complacency, represented via a low VIX, remains on the rise, and markets are still stretched by any valuation metric. Barring an uptick in economic growth or inflation, it remains unclear what will power stocks materially higher from here. For now, the trend remains higher.
Time is money. Spend more time making money and less time researching markets every day—start your free trial of the Sevens Report now.
https://sevensreport.com/wp-content/uploads/2017/08/Politics-Sevens-Report-9.png
628
1200
Tom Essaye
https://sevensreport.com/wp-content/uploads/2019/02/sevens-report-research-logo.png
Tom Essaye
2017-08-02 09:09:10
2017-08-02 09:09:10
Are Banks About to Break Out?