The Sevens Report is the daily market cheat sheet our subscribers use to keep up on markets, leading indicators, seize opportunities, avoid risks and get more assets. Get a free two-week trial with no obligation, just tell us where to send it.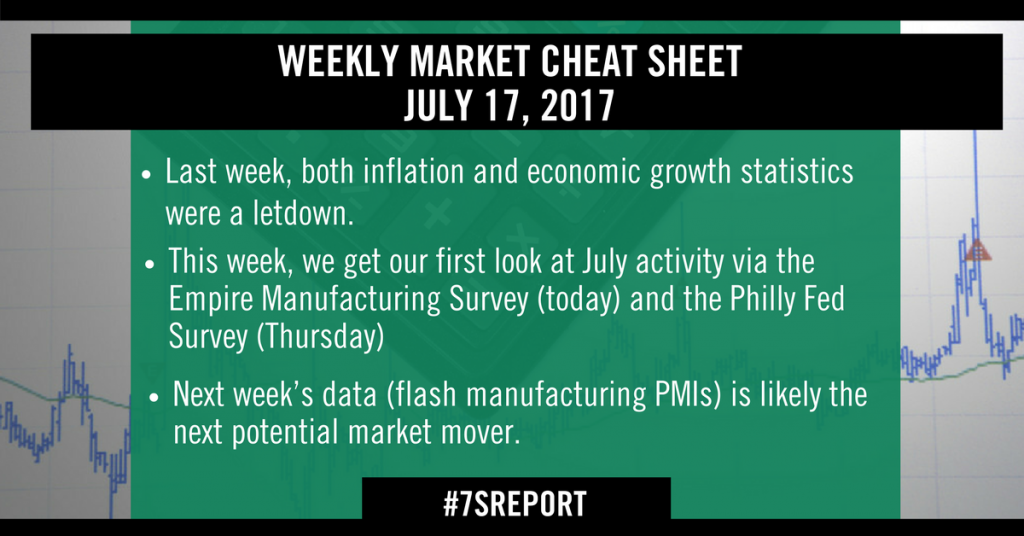 Last Week in Review
Hard economic data continued to disappoint last week, as both inflation and economic growth statistics were a letdown. And while in the short term the markets embraced it, as it potentially makes the Fed less hawkish, longer term this is a potential problem as we need economic acceleration and higher inflation to power stocks materially higher.
Friday's CPI report was the focus last week, as inflation has consistently been losing momentum since early 2017, and unfortunately that trend continued in June. Core CPI, which is the important metric in the report, rose 0.1% vs. (E) 0.2%, and 1.7% yoy. That continued a now four-month slowing of inflation, and unless this changes in the next month or two, it could alter expected Fed policy.
Specifically, while Friday's disappointing data prompted calls from analysts to say the Fed won't hike rates or reduce the balance sheet in September, we think that is premature. I believe it would take a material slowing of economic growth to cause the Fed not to start shrinking the balance sheet, and that is not what happened last week. With regards to rate hikes, if the inflation data doesn't get better between now and October, then yes, the Fed will probably be on hold for a while. But, there's a lot of time between now and October (think about how much changed during this period last year, when economic growth accelerated).
Looking at the other data last week, June Retail Sales was easily the most disappointing report. The "control" group (which is the key metric in the report, and reflects Retail Sales minus gas, autos and building materials) dropped to -0.1% vs. (E) 0.4%, and that is a potentially cautious signal for consumer spending.
Finally, Industrial Production looked like the one decent number last week, as the headline beat estimates at 0.4% vs. (E) 0.1%. However, it was a bump in mining activity that caused the headline to surge, and the more important manufacturing sub component just met expectations at 0.2%. Bottom line, last week's data was a disappointment, and further confirmed the unsustainably wide gap between "hard" economic numbers and "soft" economic surveys (like the manufacturing PMIs), and that gap must be filled one way or the other.
From a market standpoint, in the short term the data will have a dovish effect. Longer term, this middling data is a threat. With global central banks becoming less dovish, economic growth must accelerate, and in the US that isn't happening. Long term, that's a problem for stocks.
This Week's Preview
There are several notable economic reports out this week, including first looks at July economic activity, as well as the ECB meeting. But unless there are major surprises, the data shouldn't really move the debate about reflation vs. stagnation.
The headline event this week is the ECB meeting, which comes Thursday. Other than parsing Draghi's comments for hawkish or dovish hints, there shouldn't be any surprises at this meeting. For the ECB, the outlook is they will announce tapering of the QE program at the September meeting, and that by mid-2018, ECB QE will be over. Nothing Thursday should change that expectation.
Looking at US data, we get our first look at July activity via the Empire Manufacturing Survey (today) and the Philly Fed Survey (Thursday). While anecdotally notable, both surveys haven't been well correlated to the national manufacturing PMIs lately, and as such they aren't likely to elicit much of a market reaction barring a big surprise.
Bottom line, this week's economic events will give us more anecdotal insight into the current state of the economy, but really, it's next week's data (flash manufacturing PMIs) that's the next potential market mover.
Get the simple talking points you need to strengthen your client relationships with the Sevens Report. Everything you need to know about the markets delivered to your inbox by 7am each morning, in 7 minutes or less. 
https://sevensreport.com/wp-content/uploads/2017/07/Weekly-Market-Cheat-Sheet-3.png
628
1200
Tom Essaye
https://sevensreport.com/wp-content/uploads/2019/02/sevens-report-research-logo.png
Tom Essaye
2017-07-17 10:19:26
2017-07-17 10:19:26
Weekly Market Cheat Sheet, July 17, 2017