The Sevens Report is everything you need to know about the markets in your inbox by 7:00am, in 7 minutes or less. You can start your free two-week trial today and see how much smarter the Sevens Report makes you.
The most important trading across markets Wednesday was not in the stock market, it was in the bond market… and the signals sent there were not good. Both the absolute level of bond yields, and the shape of the yield curve, deteriorated materially… and this is a concern that should not be ignored.
First, the 10-year Treasury yield imploded, falling 11 basis points to close at 2.22%, the lowest in three weeks and now just above the 2017 low of 2.17%.
Second, and potentially more importantly, the 10's—2's Treasury yield curve also flattened materially, as the spread fell from 1.04% to 0.92%.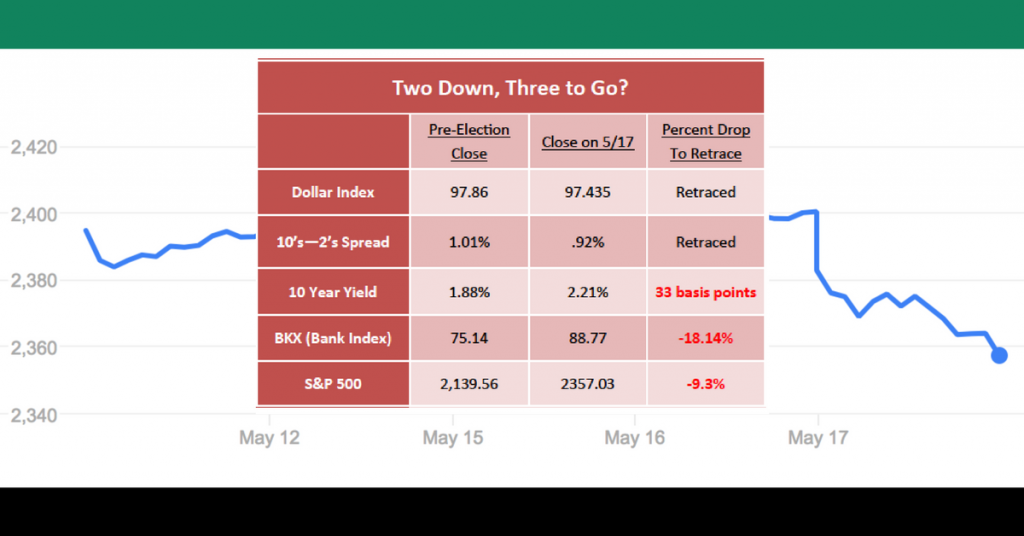 This is especially important, because the 10's—2's yield spread has now retraced the entire post-election steepening, and the curve is more flat than it was pre-Trump presidency. That is a very bad sign for banks, and since banks must lead a market higher in a reflation expansion, that is a bad sign for the entire stock market.
The 10's—2's spread has more than retraced the entire post-election move, as has the US Dollar Index (two down).
The 10-year yield is threatening to fall to fresh lows for the year. Yet, the BKX (Bank Index) remains nearly 20% above the pre-election close, and the S&P 500 still trades almost 10% above its pre-election close.
So, are we now looking at a situation where we are two down, three to go?
This situation cannot exist in perpetuity, and the collapse in yields yesterday is a warning sign that should not be ignored.
It's not definitive yet, and one bad day doesn't break a trend, but the price action in the bond market is becoming outright worrisome. And, I must continue to stress (as I've been doing since mid-March) that the bond market is the leading indicator for stocks. If the 10-year yield breaks below 2.17%, that will add to that warning. At that point, I will consider becoming more defensive in our portfolios.
Again, for context, the entire 2017 stock market rally is based on a expectation of an economic reflationary expansion. But, that expansion likely can't occur unless the pro-growth policies from Washington actually materialize, and that probability is decreasing daily.
So while stocks have held up, reflationary-sensitive as-sets have negatively reacted (banks, bonds and cyclicals). These sectors must lead a reflationary bull market, yet all of them are breaking down or are in danger of breaking down. If they go, then the broad market isn't far behind.
Again, I'm not saying get materially defensive yet, as one bad day doesn't invalidate the market's resilience. But caution signs are growing on this market, and I do not want anyone blindsided.
The Sevens Report is the daily market cheat sheet our subscribers use to keep up on markets, seize opportunities, avoid risks and get more assets. Start your free two-week trial today.