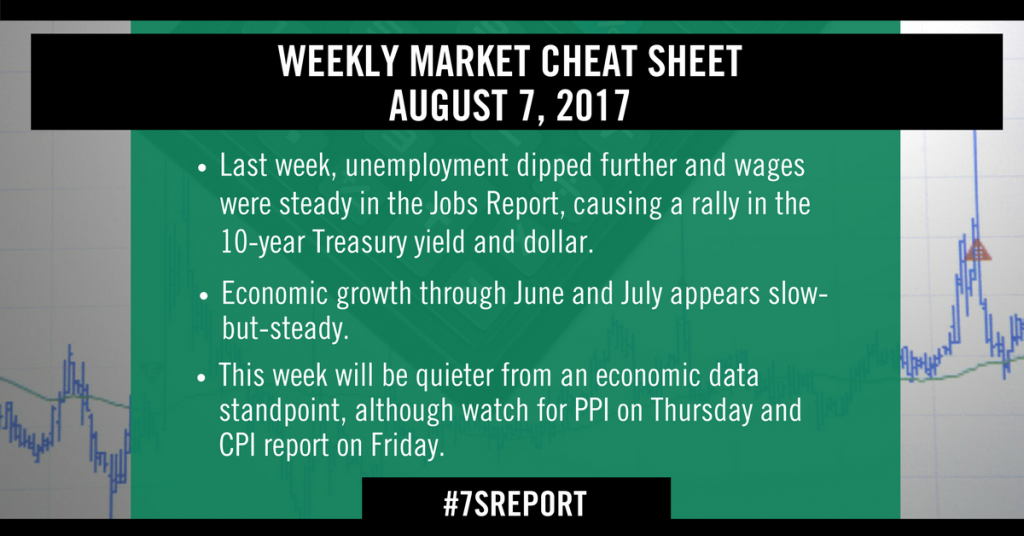 Join hundreds of advisors from huge brokerage firms like Morgan Stanley, Merrill Lynch, Wells Fargo Advisors, Raymond James and more… see if The Sevens Report is right for you with a free two-week trial.
Last Week in Review
Friday's jobs report caused a mild reversal of the week's long downtrend in yields and the dollar, but that was more a function of "covering shorts" on the news rather than it was a function of the jobs report being materially hawkish (it met our "Just Right" scenario).
In total, while unemployment dipped further and wages were steady, in aggregate the economic data from last week largely reinforces the "stagnation" outlook for markets (slow-but-steady growth, low inflation).
Starting with the jobs report, as mentioned, it hit the upper end of our "Just Right" scenario. The headline job adds was stronger than expected (209k vs. 178k) while the June revisions were positive (up 9k to 231k).
Meanwhile, unemployment and wages met expectations: 4.3% unemployment and 0.3% wage gains, with a 2.5% yoy increase. In all, it's a pretty Goldilocks jobs report, as job adds remain strong and the downtrend in wage inflation appears, at least in July, to have stopped.
That's why we saw the rally in the 10-year Treasury yield and dollar. It wasn't that the report was hawkish, but it did stop the trend in lower inflation stats. And, with a market as stretched to the downside as the Dollar Index and 10-year yield both are, it caused a snap-back rally.
Importantly, other than potentially making a December rate hike slightly more expected, Friday's jobs report did nothing to alter the outlook for the Fed (still balance sheet reduction in September).
Looking at the economic data the rest of last week, it was more of the same: Not particularly impressive, but not implying a slowdown, either.
The ISM Manufacturing PMI slightly beat estimates at 56.3 vs. (E) 56.2, and that remained well above the important 50 mark. So, while there was a decline from June, it remains indicative of a manufacturing sector that is seeing growth accelerate.
The one disappointing economic data point last week was the ISM Non-Manufacturing (or service sector) PMI. It declined to 53.9 vs. (E) 56.9, and was the weakest reading since August 2016. However, the private sector Markit Services PMI rose to 54.7 from 54.2, so there is a conflicting message there (ISM is one firm that produces PMIs, and Markit is a competitor. Usually, their PMIs are generally in agreement, but not this month… and it has to do with the survey questions each use and the makeup of the final indices. It's an oddity that there was a discrepancy, but it's not an economic red flag (at least not at this point).
Bigger picture, economic growth through June and July appears consistent with the slow-but-steady growth we've become accustomed to over the past several years. It's certainly not a negative for stocks, but it's not going to create a rising tide that propels us to new highs.
This Week's Preview
As is usually the case for the week following the jobs report and the PMIs, this week will be quieter from an economic data standpoint, although there is a very important report coming this Friday… CPI.
As we've said consistently, inflation is much more important right now (because it's declining) than economic growth (which remains steady), so inflation numbers will have the potential to move markets more than growth numbers, as we saw on Friday with the jobs report.
To that end, Friday's CPI has the potential to send bond yields and the dollar higher, if it confirms Friday's wage number that implies inflation steadied in July. Conversely, if the CPI report is soft we'll see Friday's rally in bond yields and the dollar undone, quickly.
Outside of CPI Friday (and PPI on Thursday) the next most-important data point this week will be the Productivity and Costs report Wednesday. In Friday's Report, I listed a number of events that could push stocks higher if earnings growth has peaked near term. Increased productivity was one of those events, so a strong productivity number will be positive for markets.
Beyond those two numbers, the domestic calendar is quiet this week, and none of the reports coming (NFIB Small Business Optimism Index, jobless claims) should move markets too much.
Time is money. Spend more time making money and less time researching markets every day. Subscribe to the 7sReport.com.
https://sevensreport.com/wp-content/uploads/2017/08/Weekly-Market-Cheat-Sheet-5.png
628
1200
Tom Essaye
https://sevensreport.com/wp-content/uploads/2019/02/sevens-report-research-logo.png
Tom Essaye
2017-08-07 09:00:08
2017-08-07 09:00:08
Weekly Market Cheat Sheet, August 7, 2017