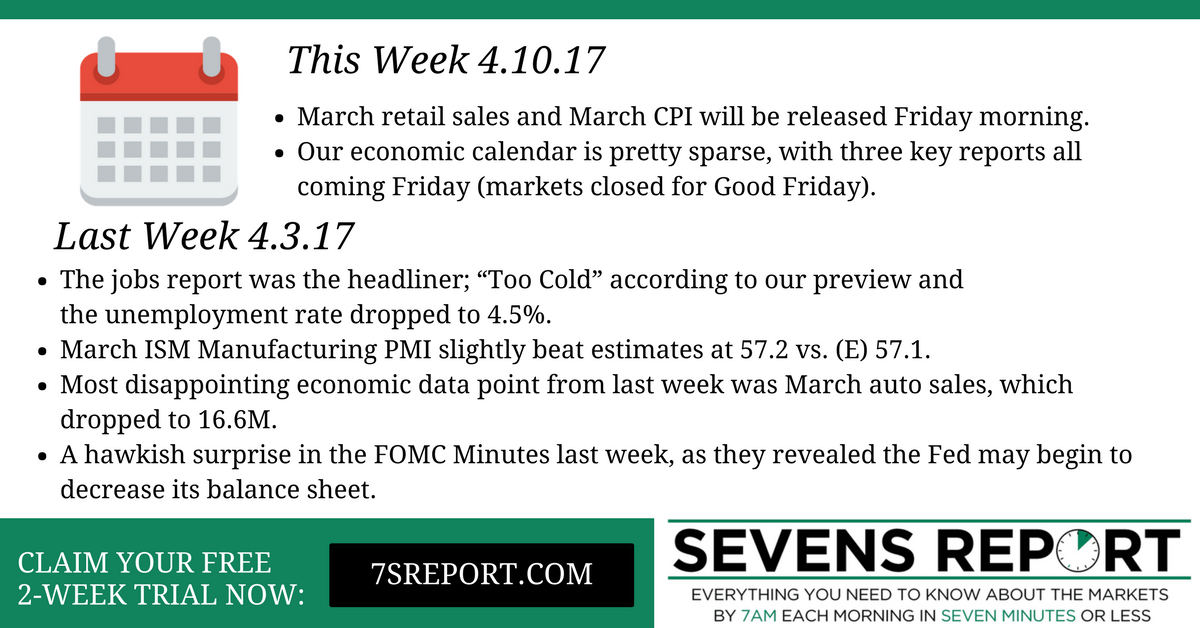 Last Week in Economics – 4.3.17
Signs of a slight loss of economic momentum continued last week, and while on an absolute level growth remains "fine," stocks need consistently better data to off-set lack of action in Washington, and that's simply not happening right now. As a result, stocks are "stuck" at the current levels and downside pressures are building.
Looking at the notable data releases last week, the jobs report was the headliner and it was "Too Cold" according to our preview. March job adds were 98k vs. (E) 175k while wages grew just 0.2% vs. (E) 0.3%. But, the unemployment rate dropped to 4.5%, which tempered the negative fallout and helped stocks shrug off the soft data.
The other two important numbers from last week were mixed. March ISM Manufacturing PMI slightly beat estimates at 57.2 vs. (E) 57.1. However, it declined from the February 57.7. Additionally, new orders, the leading indicator in the report, dipped to 64.5 vs. (E) 65.1.
March Non-Manufacturing PMI missed estimates at 55.2 vs. (E) 57.0, surprisingly hitting a five-month low. New Orders also dropped to 58.9 from 61.2 and employment plunged to a seven-month low at 51.6.
Looking at these PMIs, they're a great reflection of the current economic data/market dynamic. On an absolute level, the data is strong (remember any-thing above 50 is expansion). But, incrementally we are not seeing improvement, and as such these data points are not helping power stocks higher like they were in Jan/Feb.
Finally, the most disappointing economic data point from last week was March auto sales, which dropped to 16.6M (seasonally adjusted annual rate, or saar) vs. (E) 17.4M saar. That number weighed on stocks last Monday, as worries about the car market and industry continue to quietly grow.
Turning to the Fed, there was a hawkish surprise in the FOMC Minutes last week, as they revealed the Fed may begin to decrease its balance sheet (i.e. buy less mortgage-back securities and Treasuries) later in 2017. Markets reacted hawkishly when this news hit on Wednesday (dollar up, bond yields up, stocks down) as this was a legitimate surprise (no one expected the balance sheet to start to shrink until 2018).
This is a potentially significant event, and it's something we're going to be detailing more this week, as any balance sheet reduction will increase upward pressure on bond yields. As we said last week, this was the first true surprise of 2017.
This Week in Economics – 4.10.17
As is usually the case following a jobs report week, the economic calendar is pretty sparse, with the three key reports all coming Friday (which is Good Friday, and markets will be closed).
March retail sales and March CPI will be released Friday morning. Retail sales is important because it's the first opportunity for "hard" March data to move higher and meet surging sentiment indicators. A beat by retail sales would be a positive for the market and imply actual economic activity is starting to close the gap on sentiment surveys.
CPI is important because of the reflation trade. The market is pricing in rising inflation and better growth, so this CPI number needs to be Goldilocks. It has to be strong enough to show that inflation is consistent, but at the same time it can't surge so much that it makes the Fed hawkish (an unlikely scenario).
Bottom line, if Retail Sales and CPI can show 1) Better growth and 2) Steady but not accelerating inflation, it'll help offset the recent mild data disappointments and be a net positive for stocks.
https://sevensreport.com/wp-content/uploads/2017/04/Sevens-Report-Calendar.png
800
800
Tom Essaye
https://sevensreport.com/wp-content/uploads/2019/02/sevens-report-research-logo.png
Tom Essaye
2017-04-10 08:05:21
2017-04-10 08:14:23
Last Week and This Week in Economics, April 10, 2017