The Case for Europe, March 21, 2017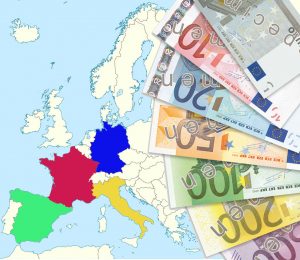 The Case for Europe, an excerpt from today's full Sevens Report. Join hundreds of advisors from huge brokerage firms like Morgan Stanley, Merrill Lynch, Wells Fargo Advisors, Raymond James and more… see if The Sevens Report is right for you with a free trial.
For the past several weeks, I've been consistently mentioning Europe as an attractive tactical investment idea. Today, I wanted to more fully lay out the investment thesis, one that is based on 1) Compelling relative valuation, 2) Continued central bank support (i.e. QE), and 3) Overestimation of political risks.
I believe those three factors have created an attractive medium-term risk/reward opportunity in European stocks, and I believe the region can outperform the US over the coming months, especially if we see policy disappointment from Washington.
Bullish Factor #1: Compelling Relative Valuation.
The reasoning here is simple. The S&P 500 is trading at the top end of historical valuations: 18.25X 2017 EPS, and 17.75X 2018 EPS. There's not much room for those multiples to go higher, and if we get policy disappointment or the economic data loses momentum, markets could hit a nasty air pocket.
Conversely, the MSCI Europe Index is trading at 15.1X 2017 earnings, and 13.8X 2018 earnings. That's a 17% and 22% discount to the US. So while it's true Europe should trade at a lower multiple vs. the US given the still-slow growth and political issues, those discounts are pretty compelling. In a world where most equity indices and sectors are fully valued, Europe offers value.
Bullish Factor #2: Ongoing Central Bank Support.
This one also is pretty simple… the ECB is still doing QE. The ECB is still planning to buy 60 billion euros worth of bonds through December of this year. That will support the economy, help earnings and push inflation higher, all of which are positive for stocks. Now, there is a risk that the ECB could begin to taper its QE program before December, or end it all together in December, but neither risk looms immediately, and the much more likely result is that the ECB tapers QE starting in 2018 and ends the program in June 2018. In that scenario, the outlook for Europe over the coming months remains positive.
Bullish Factor #3: Overblown political risk.
We've been talking about this for a while, but the fact is that political risks in Europe are overblown, and just like people underappreciated risks in 2016, I believe they are now overreacting to Brexit and Trump by extrapolating those results too far.
Going forward, there are really two important elections this year: France and Germany. The worry is that far-right candidate Marine Le Pen will win the presidency, but that remains extremely unlikely. The top end of her support looks to be just 25%, which might be enough to win the first round of voting (where voters will cast ballots for no less than 11 candidates). Yet according to all the polling, she badly loses the second round of voting by margins as big as 30% to 70%. Point being, Le Pen is not Brexit, and she's not Trump.
Second, Germany will have elections in September, and Social Democrat leader Martin Schulz will challenge Merkel for the Prime Minster position. Schultz is a former President of the European Parliament, and he's not anti EU at all. So, if he wins, from an EU outlook standpoint, it isn't a negative. Now, I'm not going to get into the details of his politics, because they aren't yet important for this investment. The bigger point is that it's not really a problem for the European economy if Schultz wins. Bottom line, we've done well in international investments in the past (Japan during Abenomics, Europe when they started QE), and we believe this is another opportunity to outperform.
How to Play It: VGK vs. EZU vs. HEDJ. For subscribers only.
This is a volatile, politically sensitive investment landscape, here in the US and in global markets, the Sevens Report can help you stay ahead of the changes, and know the right thing to say to calm concerned clients. Sign up to get your free two-week trial today.
https://sevensreport.com/wp-content/uploads/2017/03/Europe.jpg
1188
1370
Tom Essaye
https://sevensreport.com/wp-content/uploads/2019/02/sevens-report-research-logo.png
Tom Essaye
2017-03-21 08:47:47
2017-03-21 09:01:22
The Case for Europe, March 21, 2017