Yellen and Draghi Speech Preview, August 25, 2017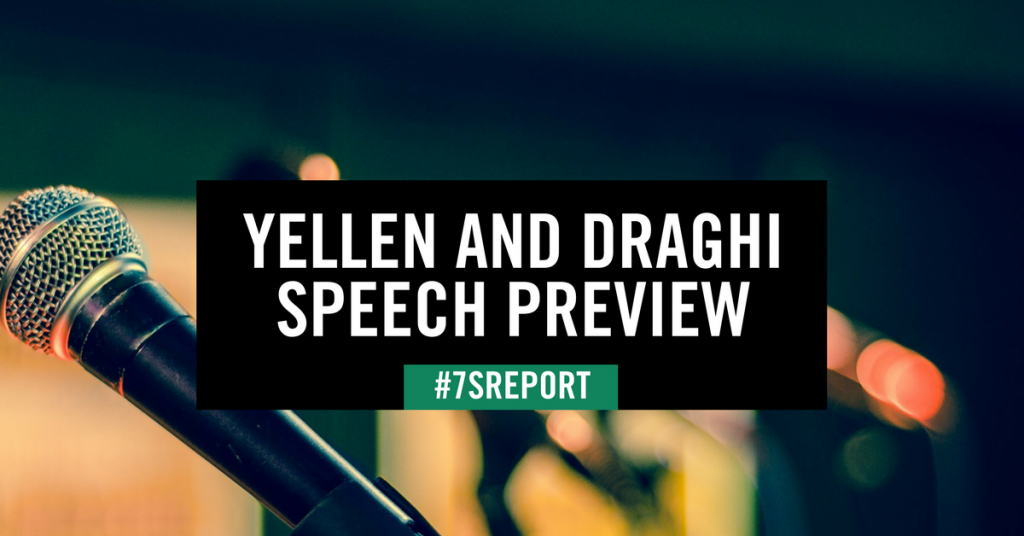 The Sevens Report is everything you need to know about the markets in your inbox by 7am, in 7 minutes or less. Start your free two-week trial today and see what a difference the Sevens Report can make.
Both Fed Chair Yellen and ECB President Draghi will speak at the conference today, and while neither is expected to say anything market moving, there are always surprises, so we want to preview their remarks briefly.
Yellen's Speech: 10:00 A.M. EST
Key question: Will Yellen give us any color on whether we get a rate hike in December?
Likely Answer: (withheld for subscribers only—unlock specifics and ETFs by signing up for a free two-week trial).
What's Expected: I'd give it about an 80% probability that Yellen does not even mention monetary policy
and instead just speaks broadly about the Fed's role in helping ensure financial stability.
Wild Card to Watch: If there's a risk of a surprise here, it's for a "hawkish" surprise. Yellen could tie in the idea that in order to ensure future financial stability, the Fed needs to continue to remove accommodation and get interest rates back to normal levels.
Again, I think it's unlikely she'd use this opportunity to discuss policy (unlike Bernanke, she's never used Jackson Hole as a forum to discuss policy). Still, there is a chance  (20% if my other probability is 80%).
If she does surprise markets, though, look for a textbook (and potentially intense) "hawkish" market response: Dollar and bond yields up (maybe big), stocks down, commodities and gold down.
Draghi Speech: 3:00 P.M. EST
Key Question: Will Draghi forcefully hint at a tapering announcement in September?
Likely Answer: (withheld for subscribers only—unlock specifics and ETFs by signing up for a free two-week trial).
What's Expected: Nothing specific. Draghi is not expected to speak or reference policy, mainly because the ECB meeting is less than three weeks away.
Wildcard to Watch: Commentary on the euro. While Draghi likely won't say anything about expected policy, he might comment on the strength in the euro. It's widely thought that the surging euro (up 10% vs. the dollar this year) would cause the ECB to be "dovish" and potentially delay tapering.
But, Draghi has pushed back on this notion recently, saying that the euro appreciation is the result of a better economy and rising inflation (hence virtuous).
If he reiterates those comments, or downplays the impact of a rising euro, that will be "hawkish" and the euro and German bond yields (and likely US Treasury yields) will rise, while the dollar will fall. This outcome would likely be positive for US stocks (on dollar weakness).
Bottom Line
In all likelihood, Jackson Hole should be a non-event, as it's simply too close to the September ECB Meeting (Sept. 7) or the September Fed meeting (Sept. 20).
Time is money. Spend more time making money and less time researching markets every day. Subscribe to the 7sReport.com.
https://sevensreport.com/wp-content/uploads/2017/08/Politics-Sevens-Report-13.png
628
1200
Tom Essaye
https://sevensreport.com/wp-content/uploads/2019/02/sevens-report-research-logo.png
Tom Essaye
2017-08-25 09:32:20
2017-08-25 09:32:20
Yellen and Draghi Speech Preview, August 25, 2017