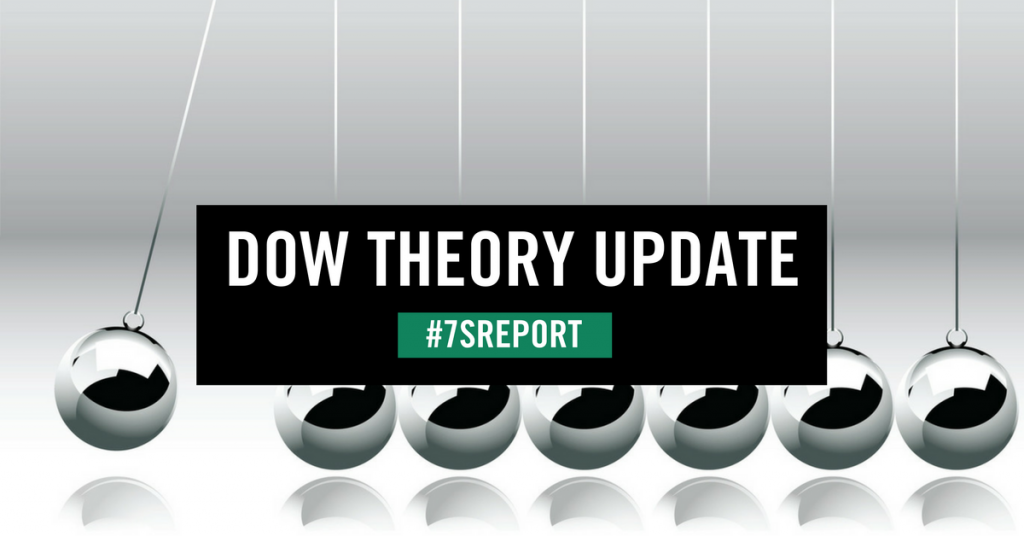 Join hundreds of advisors from huge brokerage firms like Morgan Stanley, Merrill Lynch, Wells Fargo Advisors, Raymond James and more… see if The Sevens Report is right for you with a free two-week trial.
Charles Dow's famous (but simple) theory for stock market investing is based on a series of higher highs and higher lows registered by both the Dow Jones Industrial Average and Dow Jones Transportation Average, indicating bull market conditions. On the contrary, as soon as a set of lower lows and lower highs have been registered by both of the aforementioned indexes, the theory indicates bear-market conditions are likely.
Over time, investors have applied the tenets of Dow Theory to a wide range of time frames from intraday
charts to monthly bar charts. The success rate, number of trades, and maximum drawdowns vary from time frame to time frame, but for now, it doesn't matter whether you are looking at a 15-minute chart or a
monthly chart; Dow Theory is bullish.
Starting with the industrials, the index just made new highs yesterday, and most recently made "higher lows" back in late September (on a faster time frame). That leaves a cushion of almost 1000 points in the Dow before the "faster" Dow Theory practitioners begin sounding the bearish alarm.
The Dow Transports, on the other hand, have been trading a little heavier over the last few sessions, but most recently made new highs last Friday. And while the Transports could very well break down further (as momentum has been decidedly bearish near term (over the last two sessions), but the recent new high leaves a still-bullish signal in the lesser-followed index.
Bottom line, a potential breakdown in the Transports in the weeks or months ahead would be notable, but because of the recent moves to new highs in both Transports and the Industrials, and the clear upside momentum still in the Industrials, the oldest technical theory on the financial markets continues to suggest the path of least resistance is higher—and that stock investors should continue to hold long positions.
Time is money. Spend more time making money and less time researching markets every day. Subscribe to the 7sReport.com.
https://sevensreport.com/wp-content/uploads/2017/10/Politics-Sevens-Report-20.png
628
1200
Tom Essaye
https://sevensreport.com/wp-content/uploads/2019/02/sevens-report-research-logo.png
Tom Essaye
2017-10-17 07:53:02
2017-10-17 07:53:02
Dow Theory Update, October 17, 2017