2015 is going to continue to be a volatile year with a looming Fed interest rate hike, a surging Dollar and full US stock valuations.
But, so far this year we've helped our subscribers successfully navigate this environment by putting them on the biggest outperforming trend of 2015 (long Europe) and timely key macro analysis of the key events this year: ECB QE, Greece and the Fed.
It's a continuation of the work we did in 2014 where we helped hundreds of subscribers, ranging from small RIAs to bulge bracket advisors, outperform the market, grow their books of business and make more money.
And we believe we can do the same for you in 2015. 
Our research product can grow your business by helping you:
Produce Better Returns, and Make Your Clients More Money
Save An Hour of Research Time Each Day, So You Can Spend More Time Building Your Business and Finding New Clients
Make You More Confident About What's Happening in the Markets, and Help Strengthen Your Relationships with Your Current Clients.
The reason I believe we can help you do all these things in 2015 is because we helped our clients achieve these goals in 2013 and 2014.  
Now is the time to make an investment in yourself – one that I believe will give you a positive return many times over, click here to begin your subscription for $65 per month, billed quarterly ($195).
Benefit #1:  Make More Money
Relationships are important, but at the end of the day this is a results business.  And, I'm proud that we were able to put our clients on some of the biggest money making trends of 2014 and again so far in 2015, helping them to generate market-beating returns.
Starting in September when the ECB announced "private market QE" we recognized that "Europe" would be a better destination of capital than the US given the expansion of the ECB balance sheet, and presented to our clients HEDJ as the best way to play Europe. 

So far in 2015, HEDJ is up over 18% while the S&P 500 is up around 2%*. 
In late December we presented subscribers with an "Oil Hedge Portfolio" comprised of ETFs that would protect portfolios from an oil inspired declined in stocks.  From December through the lows in oil in January it rose over 3.1% while the S&P 500 fell 3.1% resulting in 7.1% out performance*.
Also, in September we presented the thesis that: Falling gasoline prices + Stable home prices + Tightening labor markets + Still low interest rates = A tailwind on the US consumer.  We identified two consumer finance stocks that could benefit from this macro trend (SYF and LEAF) and one ETF (RTH).  Over the next 4 months those names rose 33.7%, 21.4% and 17.8% respectively*.
In February 2014 we saw that stock sector correlations were falling, and we began focusing on sector selection as opposed to broad allocation, and shifted to a trading strategy that was more active and stressed buying market "loser" sectors that had underperformed but that were poised to rebound.  That strategy produced returns of 5.6% in RTH in approximately 4 weeks, 2.8% in KBE in two weeks, 9.0% and 5.0% returns over approximately 8 weeks in ACI and KOL* (and we left money on the table there).
Currently, we are eyeing two key macro trends:
First, we continue to see opportunity in the global shippers and tankers, as low valuations, falling supply of ships and a potential rebound in global economic growth (powered by 24 central banks cutting rates this year) have created an attractive risk – reward opportunity.  We have identified the best ETF to get access to this trend and already shared that with subscribers.
Second, we believe there remain select opportunities in Europe, specifically in Sweden as that country embarks on its own balance sheet expansion, and we are already sitting on 5.4% gains* in the Sweden ETF EWD since presenting it to subscribers in early February.
Now, obviously not all our calls were right (we were on the wrong side of the bond market last year); however, as with all our trades, the risk was limited. But, we were able to get our clients in early on some of the biggest trends in the market in 2014 and so far in 2015, and we plan on doing it for the remainder of the year.
Our investment strategy is simple:  We watch macro indicators to identify tactical opportunities across asset classes that can help our subscribers outperform. 
We don't call tops and bottoms, as we've learned over the years in this business that's a fool's errand.  Instead, we focus on catching the big trend changes that can offer months of outperformance.  And, we've done well so far in our 3+ years in business, which is one reason our retention rate is still over 90%. 
Our advantage is that we have the ability to look across all markets and asset classes, because we've traded all of them before. We aren't stuck in just equities, bonds, or commodities. There's always a bull market somewhere, and our experience allows us to find that bull market regardless of asset class, and now with the explosion of ETFs, pretty much anyone can get exposure to those trends.
I believe that we are going to see a significant uptick in volatility in the coming months as we move closer towards the first Fed rate hike in nearly 7 years.    
But, there are plenty of opportunities shaping up for the remainder of the year, and subscribers to The 7:00's Report have already been made aware of the specific stocks and ETFs we're allocating to that will help us profit from these trends.
Again, this is a results business. Our job is simple – wake up every day and try and find fundamentally based, attractive risk/reward set ups that we think can make money. If you are interested in having a research team on your side that will help you navigate the markets everyday, simply click here to subscribe for $65 per month.
Benefit #2 – Save 1 Hour Per Day
Time is Money, plain and simple. I created The 7:00's Report specifically to combat the information overload we all constantly face, each and every day. In today's ultra-competitive environment, advisors need to be constantly searching out new business and maintaining relationships with current clients – not spending hours each morning sifting through pages and pages of research to find out what's really moving markets.
The 7:00's Report is designed to provide you a succinct yet comprehensive overview of what's moving all markets: Equities, Commodities, Currencies, Bonds and Economics – so you can spend less time researching the market, and more time working with your clients.
And, I believe we achieve that goal. But, don't take it from me – take it from my current clients:
"I think you save me about an hour every morning from my chair. Thanks Tom, and keep up the great work…." 
–Scott P., a Senior Managing Director of a National Wealth Management Firm
"Your report saves me 45 minutes every morning, and I know more after I've read it then I did when I was spending an hour getting caught up in the morning."
–David R., a top-producing Financial Advisor at a Bulge Bracket Investment Bank
Click here to subscribe for $65 per month billed quarterly ($195) and experience your own success with the Sevens Report.
Benefit #3 – More Confidence and Better Relationships
Whether you're actively managing client assets or just doing broad asset allocation, the bottom line is your clients expect you to be knowledgeable about the macro economy, whether it's Fed policy, Chinese economic growth, the outlook for gold, or the possibility of a Greek exit from the euro.  But, it's almost impossible to keep up on all these different situations and still focus on servicing your clients and finding new prospects.  We do that research so you don't have to.
I've had a unique career – one that started on the floor of the NYSE and then as a trader and later PM at a global macro hedge fund that traded commodities, currencies, foreign equities, bonds, etc.  And, that makes me a bit unique, in that I'm a jack of all trades, and I have a unique ability to see how all the asset classes inter-relate to one another, and how they can be leading indicators for each other.
The truth is there are some key indicators you really need to watch for clues as to the market's next direction, and we are able to identify, monitor and analyze those indicators for our subscribers, so they don't have to.
And, we've achieved that goal for our subscribers consistently over the last year:
1. In January 2014, when the S&P declined 7% in three weeks, we correctly identified that emerging market currencies were the "reason" for the drop, and identified the Turkish Lira as the key indicator to follow.  When it bottomed, stocks bottomed, and our subscribers knew it.
2. Last April, when the S&P 500 declined 4% in two weeks, we alerted our subscribers that the "momentum" sectors of internet stocks and bio-techs were responsible for the drop, and specifically identified QNET and NBR as two leading indicators to watch.  When they bottomed, stocks bottomed, and our subscribers knew it.
3. During the September/October declines, our subscribers knew junk bonds (and the ETF JNK) was the leading indicator for the market.  When JNK bottomed, so did the market.
4. Recently, as early as November we told our subscribers that oil, XLE and the Dollar Index were the leading indicators of markets, and until the first two stopped declining and the later stopped rising, stocks would be under pressure.
But here again, don't just take my word for it – take it from our clients:
"Thanks for your continued insight; it has saved my clients over $2M USD this year…Keep up the great work," 
– FA from a Bulge Bracket Firm
Tom,
"As you can see, I work for Merrill Lynch so a shortage of opinions and commentary is not an issue. I am enjoying your morning summary because it is simple, short, comprehensive  and provides me talking points on just about any subject that may come up with clients without pushing  a sale on any particular product or practice management.  Good job!" 
-P. R., Financial Advisor, Merrill Lynch.
"I have enjoyed reading your reports every morning, and although I do not trade clients' accounts frequently, it has given me talking points particularly during market drops and its helped clients feel better."
-Robert S., Financial Advisor at a National Discount Brokerage
"I have been at this a long time but I continue to learn quite a bit from you. Thanks!"
-Robert D., Financial Advisor at a National Bulge Bracket Investment Bank
"Tom's ability to summarize market action in minutes is invaluable in today's environment of data overload. We spend over $100,000 a year on research, and The 7:00's Report is the one piece of research I can't do without."
–John S., Vice President of a multi-billion dollar asset management firm.
Subscriptions Start At Just $65/month – That's less than $2.25 a day 
I was brought up in this business the "Old School" way, and I firmly believe we're all in this together.  My goal is to use my knowledge and experience to help make your job easier, and make you a better and more knowledgeable advisor.
And, I'm very, very proud of the fact that our retention rate is over 90%.  Our goal is to provide value to our clients each and every day, and I'm happy to say that based on our retention rate, our clients are finding value in our product.
If your 2015 goals include being better informed, speaking with more authority to clients, and, of course, having the knowledge required to answer any client's or prospect's questions with supreme confidence, then I invite you to do as your competitors are doing and subscribe to The 7:00's Report today.
Subscriptions start at just $65 per month, billed quarterly, and with the option to cancel any time prior to the beginning of the next quarter, there's simply no reason why you shouldn't subscribe to The 7:00's Report right now.
If you want to make your business more successful, you have to possess unshakeable confidence in your knowledge, and helping you acquire that knowledge is what The 7:00's Report is all about. So, give yourself the gift of confidence in 2014. Begin your subscription to The 7:00's Report right now by simply clicking the button below:
Finally, everything in business is a trade-off between capital and returns.
So, if you commit to an annual subscription, you get one month free, a savings of $65 dollars.  To sign up for an annual subscription, simply click here.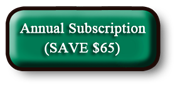 * All percentage gains/losses calculated from Jan. 1st through March 25th 2015.